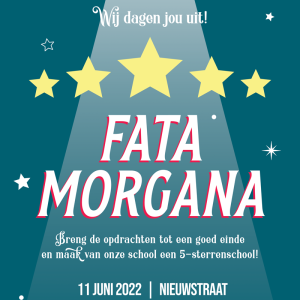 Op zaterdag 11 juni organiseert de ouderraad in samenwerking met het Hartencollege Basisschool Meerbeke het tweejaarlijkse eindejaarsfeest! Dit jaar staat het feest in het teken van Fata Morgana! Brengen jullie de 5 opdrachten tot een goed einde, dan maken jullie van onze school een 5-sterrenschool! Benieuwd om welke opdrachten het gaat? Ontdek ze hier!
Om 14u00 gaan we van start:
⭐️ Dans met 50 leerlingen tijdens de slotshow om 17u30 een heuse choreografie! Een danslerares leert het dansje doorlopend aan tussen 14u00 en 17u00.
⭐️ Teken en kleur 100 klassenlogo's. Elke klas krijgt die dag een eigen logo, aan jullie om ze over te tekenen en in te kleuren.
⭐️ Schrijf 200 kaartjes voor de bewoners van WZC Domein Castelmolen.
⭐️ Voorzie 100 mama's, papa's, oma's, opa's,… van een prachtig laagje make-up! Belangrijk detail: enkel aan te brengen door de leerlingen.
⭐️ Zorg ervoor dat één of meerdere BV's uit de sport- of showbizzwereld deel uitmaken van de jury tijdens de slotshow
Om 17u00 zit de tijd erop en moeten alle opdrachten volbracht zijn. Om 17u30 worden de sterren uitgedeeld. Elke geslaagde opdracht is een ster waard.
Verder staan er springkastelen en een grime-stand voor de kinderen, kan de dorst gelest worden aan de bar en de honger gestild worden met een ijsje, hamburger, hot dog of frietjes .
Ten slotte nog wat praktische info: bij mooi weer raden we je aan te voet of met de fiets te komen. Kom je met de wagen, dan kan je parkeren op het gemeenteplein. Enkel de ingang in de Sint-Berlindisstraat zal geopend zijn.
We openen de schoolpoorten om 13u00. Tot dan!